Most road accidents occur due to human error. Advanced driver-assistance systems are systems developed to automate, adapt and enhance vehicle systems for safety and better driving.
The active safety features are predominantly the features that work to prevent or lower the risk of a collision occurring. They are so named because they are always active, and working to try and prevent an accident. Whereas passive Safety Features are systems that are passive up until called into action. They only become active during the accident and aim to help minimize the damage from the collision
Generally, active safety systems can keep working and resetting themselves over and over again, whereas once the passive safety features have deployed, they are no longer functioning and would need to be replaced.
To understand and develop active safety systems you need to consider, the available sensors and technological systems that can be fitted to a vehicle in order to allow it to actively avoid, or minimize the risk of a collision occurring.
These active safety features are often referred to as ADAS – Advanced Driver Assistance Systems.
Advanced Simtech can provide your organization with support and services to help either understand the influence of an existing active safety feature or to develop a new capability.
We have been working with ADAS and active safety systems for over 8 years, providing support and assistance to our customers, helping them to develop and validate their products.
Our unique position within this sector allows us to assist with both Virtual testing for development as well as transferring real-world test data back into the virtual world to fine-tune and improve the performance of your chosen system.
1)
Driver Assistance Systems
– simple features that make driving more comfortable. (Head up displays, park assist, cruise control and speed limiters, rain sensors)
2) Driver Warning – The ability to alert the driver of any hazards (Head up display, driver drowsiness, parking sensors)
3) Collision Avoidance – by understanding its position relative to others cars and road users it can avoid any potential collisions. (, Braking Assist, Front and surround sensors such as radars and lidars)
4) Collision Mitigation – If the crash is going to happen, it can help to minimise the energy or level of impact.( automatic emergency braking, steering away, electic seatbelt retractors pull in the webbing to restrain occupants)
5) Injury Mitigation – standard passive safety features operate in the event of a collision (airbags, pretensioners, seatbelts as the vehicles crash structure is loaded and crumples under impact)
6) Post Crash – information automatically transmitted to the emergency services or the interior occupants. (providing the vehicles location and number of occupants, along with crash severity and impact direction. Fire suppression systems and high voltage circuit breakers to disconnect the battery in an electric vehicle).
Autonomous Driving
The Society of Automotive Engineering (SAE) has developed a guideline on Autonomous driving, dividing the technology into 5 clear levels.
Developing ADAS systems:

Driven by the vision of accident-free and autonomous driving, ADAS and highly automated driving functions offer great potential for innovation in the automotive industry (and beyond).
However, while the systems become increasingly complex, the development and validation efforts have to stay manageable.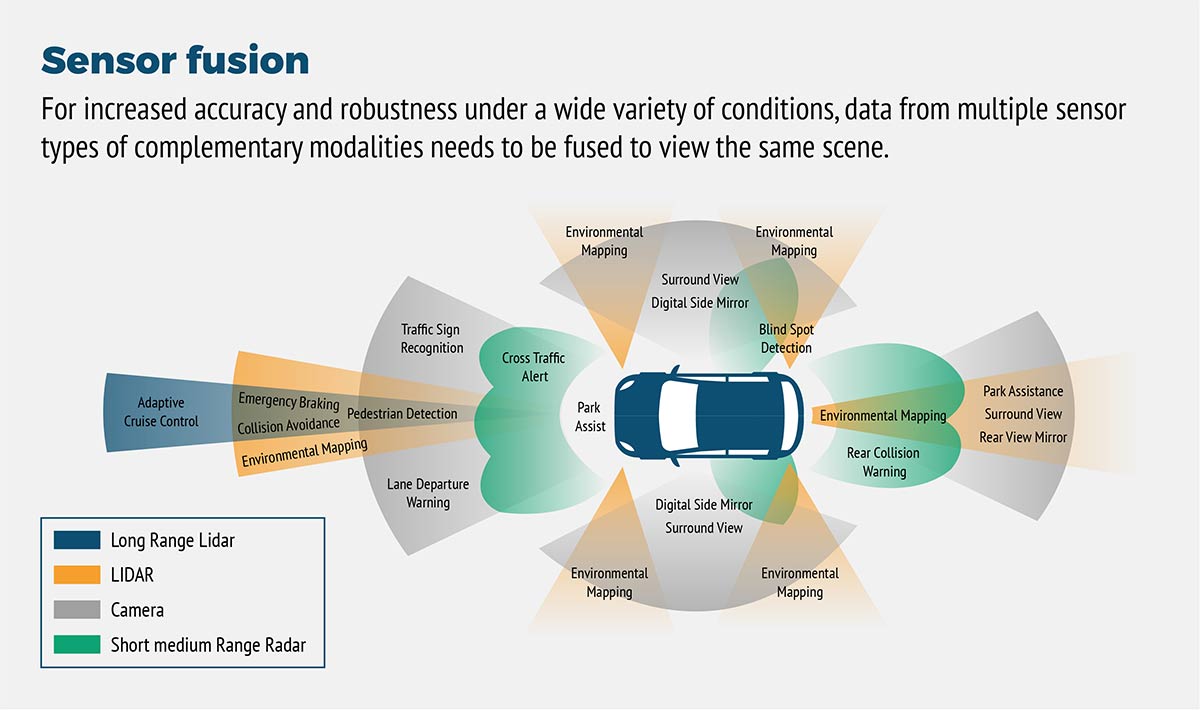 With a well-coordinated blend of toolsets in which perfectly matched tools interact smoothly throughout all of the required development steps you can get your autonomous driving functions safely on the road.
In order to develop a robust solution to any automotive problem, engineers have to combine the fields of virtual development and testing together with physical validation. Advanced Simtech is in a unique position to assist customers in their development of ADAS and autonomy functionality through their partnership with leading industry experts and products.
We are the distributors of the Simcenter Prescan software in the UK and Ireland with dedicated support and presales to help your organization.
We are also the UK and Ireland distributor for IBEO Automotive, proving sales and support for their unique range of vehicle lidar products together with their innovative software toolsets.
The future of Occupant Safety
The trend towards higher levels of fully and highly-autonomous driving also has the potential to allow new degrees of freedom for vehicle users performing non-driving functions, such as conversing with other occupants in newly configured, more convenient seating positions. This, of course, presents a whole new paradigm shift for the problem of occupant safety which today is based stringently on regulations for occupants in (fixed and defined) seating positions.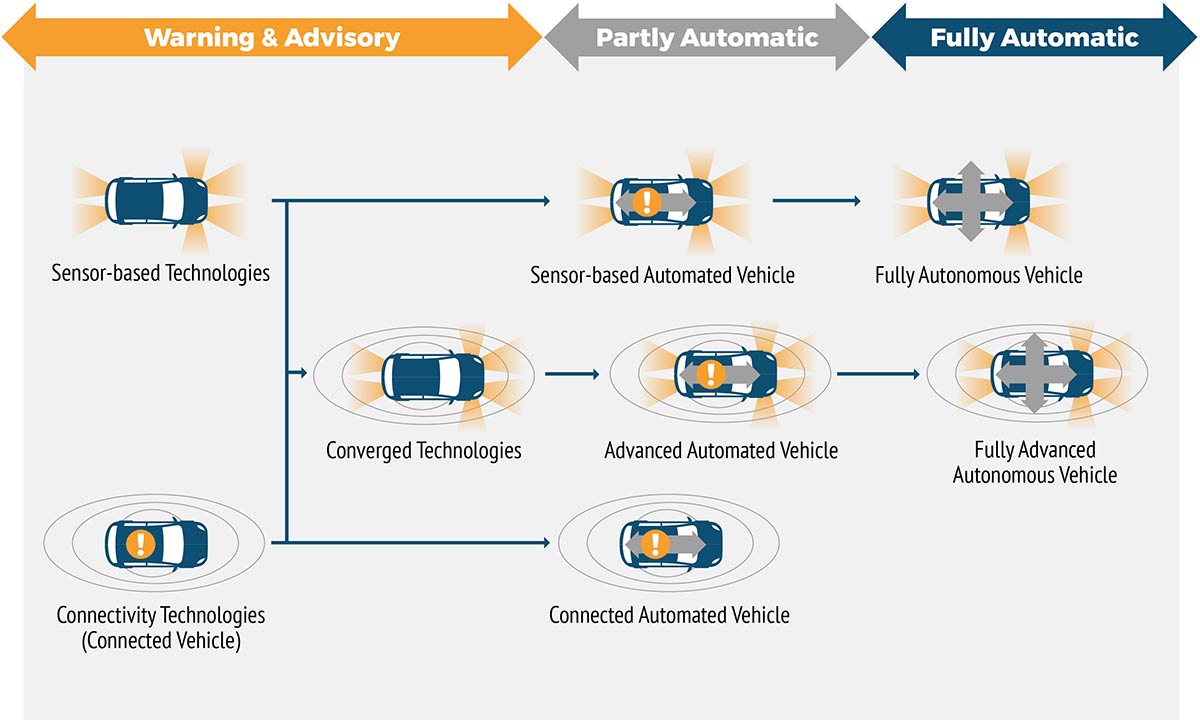 The number of scenarios needed to properly validate ADAS/AV systems will explode from SAE level 1 up to level 5 (Fully Automatic).
The major part of the validation and verification (V&V) of such AV systems cannot be achieved through semi-virtual or real-world physical validation alone. Therefore, frontloaded virtual V&V at MiL (Model in the Loop) and SiL (Software in the Loop) stages will have to play a much bigger role in any development process.
The development of AV systems requires efficient and fully automated simulation orchestration to help engineers in developing their ADAS systems. Hence this is why Advanced Simtech works together with our key partners to provide an efficient and cost-effective workflow and proven toolset.
Linking Virtual testing with real-world driving is essential to develop robust and reliable AV systems.
FAQ's
What is Active and Passive Safety?
Active and Passive Vehicle Safety Features have been developed over many years and have been designed to prevent accidents, or collisions, from happening in the first place, but when they do, these systems work to reduce the effects upon the passengers in the vehicles involved, eliminating injuries where possible or if not, reducing these to the minimum level. 
What is Active Safety?
Active Safety Technologies continuously work in the background to assist the driver and reduce the likelihood of, or prevent an accident or collision from occurring. The technology has been developed from the knowledge that more than 95% of all crashes are the result of human error on the part of one or more drivers. 
These systems are working to prevent a collision from occurring, or to reduce the impact speed if a collision cannot be prevented.
What is an Active Safety System?
An Active Safety feature would be a technology which is operative from the moment the vehicle is in use to prevent a collision or reduce the risk of collision as far as possible and includes technologies like:- 
ABS; Anti-Lock Braking Systems
ESC; Electronic Stability Control

 

ACC; Adaptive Cruise Control 
AEB; Autonomous Emergency Braking  
LKA; Lane Keeping Assist 
All these would fall into the Advanced Driver Assistance Systems (ADAS) description and would "switch-on" each time the engine is started, constantly working in the background to improve the safety of the driver, vehicle occupants, and other road users. 
What sensors do Active and Passive Safety Systems require? 
Typically, Active Safety Systems are reliant on sensor technology to provide the necessary data for a particular system to work. 
These include:- 
The "eyes" of the vehicle
LiDAR (Light Detection and Ranging) 
RADAR (Radio Detection and Ranging) 
High definition digital Cameras 
Infra-red and Ultra-sonic 
Location systems
GNSS aided location and positioning systems
Inertial movement sensors 
At Advanced Simtech, we have partnered with leading developers of the technology required to develop and deliver Active safety systems.
We have also partnered with the world leading supplier of automotive development software – Siemens Digital Industries Software Industries to support their vehicle safety development software products:- 
At Advanced SimTech, our engineers have been working on Vehicle safety Systems for 20 years or more and have built up invaluable experience of the design, build and evaluation of such systems. 
For more information contact us on. 
Partner Companies
As of the start of July 2020, we are now also the UK distributor for Applanix land systems. Providing robust position and orientation solutions for sensors and vehicles. Industry-leading GNSS-aided inertial technology, and Direct Georeferencing of imaging devices sensor fusion and complex systems
If you have any questions about any of our specialist engineering services including Occupant Biomechanics, Vehicle Safety Systems such as restraints and airbags, Advanced Driver Assistance Systems (ADAS), Autonomous Vehicles or 3D Data Capture and Processing, please do not hesitate to get in touch. Our knowledgeable, professional, and experienced team is always on hand to answer any of your questions.
Alscot Estate, Atherstone Hill, Atherstone on Stour
Stratford Upon Avon, CV37 8NF
Tel: +44 (0) 1789 264 782
Email: info@advancedsimtech.com
Advanced Simtech is an privately owned engineering consultancy specialising in the areas of human biomechanics, vehicle safety and real world accident reconstruction.
Contact Us
Advanced Simtech
Alscot Estate, Atherstone Hill, Atherstone on Stour
Stratford Upon Avon
CV37 8NF
+44 (0) 1789 264 782
info@advancedsimtech.com