Case Study – Fatal Stairwell Fall
This case study below illustrates how Advanced Simtech was able to assist in determining the circumstances of a fatal fall down a flight of stairs.
The client explained that there was question over whether the fall was the result of a push, or purely accidental, and requested assistance in the form of our Biomechanics expertise.
Basic measurements from the staircase were used to build a virtual scene, including a detailed Human Body Model, in order that a series of simulations could be performed.
 As an extension to this work, we also carried out a study into staircase layout and its effect upon injury causation during such a fall.
Case Study – Fatal Stairwell Fall
Customer: Private Client
Case Overview
A male fell backwards down a flight of stairs, receiving fatal injuries. In order fully understand the limited information available regarding the cause of the fall, our client requested an analysis of the event to be carried out as it was questioned whether it was an accidental fall or an intentional push that resulted in the accident occuring.
Objective
The simulation model was developed to provide an insight into the impact locations and injury causation mechanisms for a range of initial scenarios. The main variable was the initiator of the fall, i.e. a loss of balance or an external push.
Solution/Methodology
From simple scene measurements of step height and pitch, a Madymo model of the staircase was created. A scaled Madymo Human Body Model was then carefully positioned at the top of the stairs, its stance having been specified by the client, based upon witness statements.
Initially the human was allowed to fall under gravity with no other external influence. As the model developed, external forces were applied to represent pushes of varying magnitude and points of application, e.g to the left shoulder, right shoulder, chest etc.
By examining the injuries and the impact locations during the simulated falls, it was possible to assess the influence of the fall in terms of the initial body posture and any additionally applied forces initiating the fall.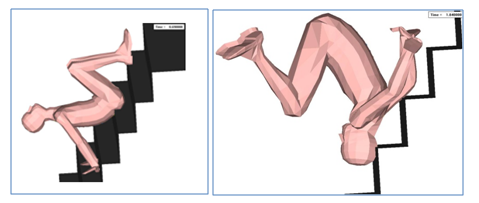 As an extension to the work, a brief study was carried out which examined the influence of stairway design on the likelihood of injury during a fall. This was achieved by varying the pitch (steepness) of the original staircase in the simulation and finally by implementing a 'corner' layout.
Results
By applying various initial inputs to the human, it was apparent that an external force was not required to match the physical evidence.
Conclusion
Advanced Simtech were on this occasion able to show that foul play was unlikely to have been a factor in the fatal stairway fall.
Furthermore,  via the flexibility of the simulation model created, it was possible to show the influence of changes in the staircase design on the likelihood of serious injury during a similar fall.  This lead to the publication of an article together with ARUP in  "Hospital Engineering & Facilities Management' a global publication for civil engineers and architects involved in the design and construction of public buildings.
With ever increasing applications, specialized software and highly advanced methodologies; contact Advanced Simtech today to find out how we could benefit your organization.
Partner Companies
As of the start of July 2020, we are now also the UK distributor for Applanix land systems. Providing robust position and orientation solutions for sensors and vehicles. Industry-leading GNSS-aided inertial technology, and Direct Georeferencing of imaging devices sensor fusion and complex systems
If you have any questions about any of our specialist engineering services including Occupant Biomechanics, Vehicle Safety Systems such as restraints and airbags, Advanced Driver Assistance Systems (ADAS), Autonomous Vehicles or 3D Data Capture and Processing, please do not hesitate to get in touch. Our knowledgeable, professional, and experienced team is always on hand to answer any of your questions.
Alscot Estate, Atherstone Hill, Atherstone on Stour
Stratford Upon Avon, CV37 8NF
Tel: +44 (0) 1789 264 782
Email: info@advancedsimtech.com
Advanced Simtech is an privately owned engineering consultancy specialising in the areas of human biomechanics, vehicle safety and real world accident reconstruction.
Contact Us
Advanced Simtech
Alscot Estate, Atherstone Hill, Atherstone on Stour
Stratford Upon Avon
CV37 8NF
+44 (0) 1789 264 782
info@advancedsimtech.com