Case Study – Rapid site survey and transfer to CAD
Case Study – Rapid site Survey and transfer to CAD
Customer: Private Client
Case Overview
A Railway Station was to be laser scanned in order to demonstrate the range of deliverables that we could offer the client. The site is approximately 7,000 sq.m.
Solution/Methodology
The laser scanning was completed in around 4 hours and this included capture of both laser scan and photogrammetry data using our Leica HDS6100 laser scanner and panoramic SLR equipment.
A total of 24 Laser scan positions were utilised, each containing approximately 20,000,000 seperate points of data. This point cloud data was then registered with photographic colour data applied, within a few hours of completing the survey.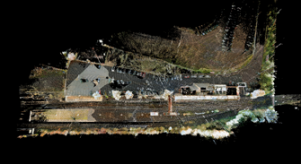 Once the raw data has been captured, we were then able to process the data into both simple visualisations and detailed CAD schematics. For the visualisations, Pointools software was used to create a flythrough animation of the station using only the registered point cloud.
Truviews were also generated in order to allow the client to move throught the scene and carryout detailed measuerments of the station form their desktop.
The next step was a create a detailed 3D CAD model of the station based on the scan data.  This was completed in approximately 1 week and is accurate to within 10mm (based wholly on the external building features only)
Conclusion
Advanced Simtech were able to use laser scanning to provide a useful and highly visual set of deliverables in order to aid a possible redevelopment plan. The scan data also acts as a heritage resource, providing a record of the site in its current state aiding any possible restoration or repair to the original features..
With ever increasing applications, specialized software and highly advanced methodologies; contact Advanced Simtech today to find out how we could benefit your organization.
Partner Companies
As of the start of July 2020, we are now also the UK distributor for Applanix land systems. Providing robust position and orientation solutions for sensors and vehicles. Industry-leading GNSS-aided inertial technology, and Direct Georeferencing of imaging devices sensor fusion and complex systems
If you have any questions about any of our specialist engineering services including Occupant Biomechanics, Vehicle Safety Systems such as restraints and airbags, Advanced Driver Assistance Systems (ADAS), Autonomous Vehicles or 3D Data Capture and Processing, please do not hesitate to get in touch. Our knowledgeable, professional, and experienced team is always on hand to answer any of your questions.
Alscot Estate, Atherstone Hill, Atherstone on Stour
Stratford Upon Avon, CV37 8NF
Tel: +44 (0) 1789 264 782
Email: info@advancedsimtech.com
Advanced Simtech is an privately owned engineering consultancy specialising in the areas of human biomechanics, vehicle safety and real world accident reconstruction.
Contact Us
Advanced Simtech
Alscot Estate, Atherstone Hill, Atherstone on Stour
Stratford Upon Avon
CV37 8NF
+44 (0) 1789 264 782
info@advancedsimtech.com